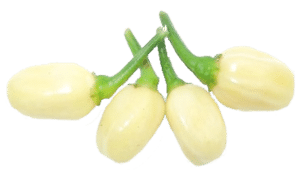 Curiosities: Utilizzato dal 5.500 A.C. in Messico, successivamente approdò in Europa  tramite grandi galeoni dove riscosse fin da subito una grande richiesta ed un grande successo. Pianta molto piccola ma dalla produzione eccezionale, nell'arco dell'intera stagione si possono cogliere dalla stessa pianta oltre 250 peperoncini. Esistono diversi tipi di Habanero White, circa 6-7 specie, ognuno con caratteristiche diverse.
Fruit characteristics: The small plant, reaching a maximum of 60-70 cm above the ground, tends to develop with many branches and produces numerous chilies. When fully ripe they have an ivory white color.
Pepper Maremma recommends it: Semplicemente stupendo sui primi piatti di pesce come la pasta con cozze e vongole o risotto di mare, essendo meno aromatizzato dei suoi "fratelli Habanero" si sposa bene anche su carni delicate come pollo e tacchino.
Our products with Habanero white